Media. We don't just "do it all." We do it all expertly.
Within the last decade, the media landscape for recruitment advertising has been turned on its ear. There have never been more ways to target and reach potential candidates. But simply utilizing emerging digital and social media isn't enough - you have to do it better. And we do.
Our messaging is both geo-graphically and behaviorally targeted and leverages industry standard methodologies as well as our own proprietary tools, such as Workforce Locator™ and HirePower.™
So whether you're driving traffic for a specific hiring initiative, pursuing a hard-to-fill placement or targeting diversity job seekers, our media planning and buying methodologies will better equip you to reach the highly qualified right-fit candidates that you're seeking.
We keep you in touch with your prospects where they work, where they live, and when they are on the go.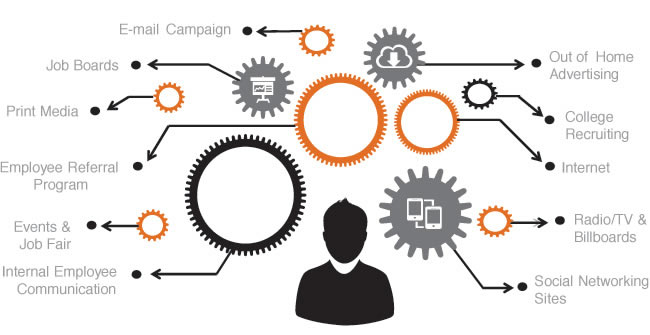 Each of our media assignments begins with metrics - assessing and evaluating the history of our client's prior recruitment experience. Once we've benchmarked prior success, we collaborate with our clients to quantify their objectives and to establish goals for each recruitment effort. We then incorporate insights based on these benchmarks and goals into our media plans. Because we're so confident about our metrics, we offer clients who agree to measure a 100% satisfaction guarantee - if we don't deliver the targeted results in the agreed-upon time frame, we continue working at no additional cost until the identified goals are reached.